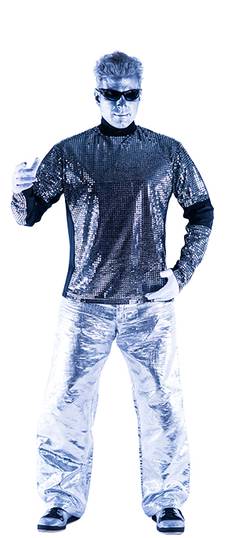 Robot
Richard has been profiled as a robot for a very long time, and without his accompanying programmes, that came later, the home page of this website would still be presenting him as "silver man".
In 2001, Richard became the runner-up word champion and in 2002, he won the "World Champion" title for electric boogie dancing!
He also has 2 national championships from these years under his belt.
Richard has been developing his skills in this are since the previous century, with the first records of his electric activities going all the way back to 1990.
Due to the strong electromagnetic field that robots produce, he managed to attract a robotic partner in 1996. This partner was none other than Martin Pořízek, with whom, for fifteen years, he formed the most notorious robotic duo on the Czech scene, The Robots.
The robot fleet currently went through updates and his new partner for "The Robots" show is Jakub "Elektrokosa" Kosatik (www.angstorm.cz)
Even though you do not indulge in mechanical toys and mechanical movement, you will not be sure whether you see a human or machine in front of you during Richard's show.